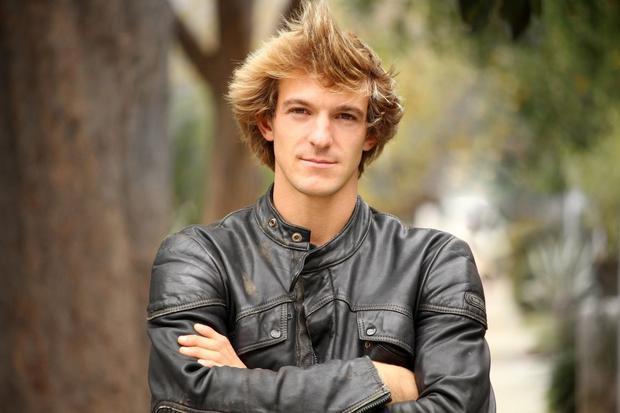 Wolfpack Ninja Podcast Episode 19 – Nicholas Coolridge PART 2
Nicholas Coolridge is Modern Tarzan: An Instagram celebrity turned Ninja Warrior.
Nicholas Coolridge is a special kind of guy. Instantly likable and humble, this quirky former dumpster-diver made a stunning debut on American Ninja Warrior in season 6 by becoming the first and only Ninja to complete the Venice City Finals (see video below.) Nicholas is a super nice guy and instantly fit into the Ninja community. Gaining instant respect from top Ninjas for his amazing acrobatic abilities, the rest of the world is also paying attention to this humble and very handsome Ninja. Nicholas is one of those rare Ninjas that has become a veteran after his first season. Not only was his debut incredible, but his performance on Team Ninja Warrior was incredible as well. Interestingly–and despite the fact that he did not win all his heats against true veterans–the way he moved and the way Nicholas looked was the telling factor. Borderline reckless, Nicholas was able to turn up the volume to 10 and run on max with near flawless execution. The only problem: the Ninja course demand flawless execution and for most of us that means running at a 6! You get the feeling that if Nicholas turned it down to 9.5, he would be unbeatable.
With over 1000,000 followers on Instagram (follow him @moderntarzan,) Nicholas lives by his mantra to "do something awesome
everyday." Indeed, Nicholas is a bit of a joker, a bit of a hero, and all Ninja for sure. Like most of us in the Ninja universe, Nicholas was instantly addicted to the challenge, the training and the mental fortitude it takes to live a life dedicated to Ninja. His default is GO and his two gears are EXTREME NINJA and BOSS MODE. Once he figures out the 9.5 thingy he will be full Jedi.
In his interview, Nicholas Coolridge shares with us his vision and his passion. He states clearly that his goal was to be "paid to be himself" which he has clearly accomplished. Hooking up with Travis Brewer–a fellow Ninja who's show was last week–Nicholas wants to inspire his followers to live out their dreams and develop their bodies and minds. Wait a second… That's what the Wolfpack Ninjas want as well! I think we are seeing a trend with all these positive and inspirational Ninjas which is they have become the people they always wanted to be, and now they want to show others that they can do it too.
Nicholas leads by example. His speed and fluidity as a Ninja are already legendary despite the fact that last season was his rookie year. On Team Ninja Warrior, Nicholas went FAST. Perhaps recklessly fast at times, but FAST nonetheless. When Nicholas moves it's like watching a panther or some other large cat moving powerfully, gracefully and confidently through obstacles. Even as fellow Ninjas, it is awesome to behold. Nicholas is a Ninja's Ninja.
Many thought Nicholas might be the First American Ninja Warrior, but alas it was not to be. Searching for inspiration himself, this acrobatic genius may have found his muse with the American Ninja Warrior show. Give Modern Tarzan a follow on Instagram. You are missing out if you don't.
Nicholas Coolridge Dominates at American Ninja Warrior taking 1st place in a STACKED field:

Nicholas's SIZZLE REEL, THIS IS AWESOME!!!

NINJA QUICKIE! Nicholas Coolridge and Travis Brewer Vs. Kevin Bull and Evan Dollard. FOR REAL! This is so cool! Great relay!!!

FOLLOW NICHOLAS COOLRIDGE ON SOCIAL MEDIA!
INSTAGRAM – OVER 100,000 followers FOR GOOD REASON!