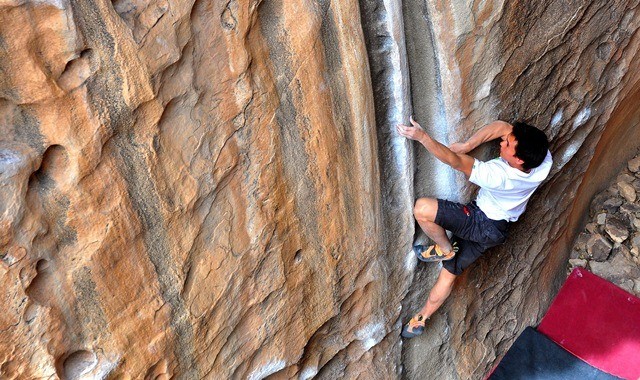 Wolfpack Ninja Podcast Episode 9 – Sean McColl
Sean McColl is a world-class athlete and a humble warrior of the soul.
Sean McColl is one of the best. Verily, Sean may be the best. Sean McColl has competed in over 100 World Cup Rock Climbing competitions (our olympics) and has won multiple of these competitions in both categories; Sport climbing and bouldering (see videos below for differences.) Sean is a training guru and has a wildly popular YouTube channel (see link below.) Sean is a happy-go-lucky competitor with a fierce drive to be the best that has made him, well, the best. Rivaled by only a select few in the upper echelons of the Rock Climbing world, Sean discusses his approach to his climbing and life in this revealing Wolfpack Ninja Podcast interview.
American Ninja Warrior was a natural extension of Sean's pursuits of excellence with only one minor problem: He's Canadian. He always watched and dreamed of being able to compete on the Show. He finally got his chance when approached for a spot on Team Europe over the last two seasons. Sean shocked everyone out of the blue with his amazing rookie performance on the very difficult stage 2 of Midoriyama (see video below for Sean's amazing debut run!) Although climbers have known and revered Sean for many years, suddenly his talents could suddenly be seen by a broader audience.
Sean discusses his training, his mental approach and his thoughts about American ninja Warrior specifics in this awesome interview. He also reveals some things you might not know like his passion for gaming and his disciplined approach to diet and nutrition. Sean is a driven character and he is still young at 27 years old. Already on top of the world in competition, Sean seems like the kind of guy that can accomplish just about anything he sets his mind to. He is unafraid of failure and dedicated to self-improvement in the way only a true ninja can be. We salute you, Sean McColl, you are truly a Ninja's Ninja.
BONUS: Guest host is ROOKIE OF THE YEAR ANW7 DAN YAGER (see below)
Now check out some amazing videos of Sean dominating everything:
Sean McColl on American Ninja Warrior Team Europe:

Sean McColl vs. Isaac Caldiero in the Psicocomp:

Here is Sean sending the incredible sandstone V14 boulder problem "Meadowlark Lemon" in Las Vegas's Red Rocks:

Here is Sean sending one of the hardest and most interesting rock climbing sport lines, Chris Sharma's "Dreamcatcher" in Squamish, Canada:

Here is an AMAZING and helpful training video Sean put together that you can use to get stronger!

FOLLOW SEAN ON SOCIAL MEDIA (LINKS:)
SEAN'S SPONSORS – Support Sean's Sponsors! They Support him!
DAN YAGER Moves Like Yager!
Our co-host for this show was the amazing DAN YAGER. Dan had an outstanding first season on American Ninja Warrior and fell just shy of stage 3! He is an amazing climber and is practically Wolfpack training with us day and night. He is a good friend and we will be dedicating a whole future episode to his story, which is amazing: He was a student at Columbine when the fatal shootings occurred. Check Dan out and give him a follow below on social media!
Here is Dan doing what he loves the best: ROCK CLIMBING! this time on a tricky 5.13 climb his buddy the Ninjadoc, Noah Kaufman bolted in Northern Colorado!


Copperhead from Daniel Yager