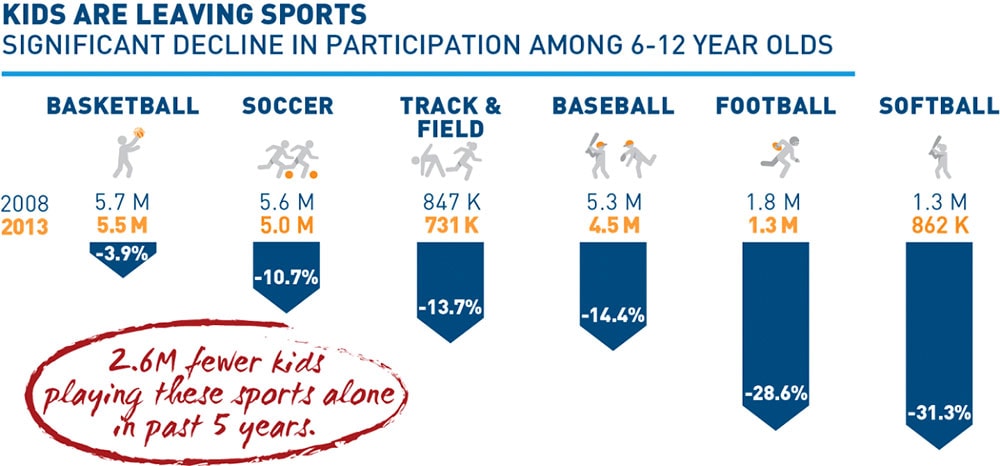 The Wolfpack Ninjas are on a mission to combat childhood obesity and diabetes
Regular physical activity benefits health in many ways, including helping build and maintain healthy bones, muscles, and joints; helping control weight and reduce fat; and preventing or delaying the development of high blood pressure (GAO, 2012). Exercise is one of the least expensive ways to stay healthy, with one study finding that exercise can prevent chronic diseases as effectively as medication (British Journal of Medicine, 2013).
Childhood sports participation is a significant predictor of young adults' participation in sports and physical fitness activities. Adolescents who play sports are eight times as likely to be active at age 24 as adolescents who do not play sports (Sports Participation as Predictors of Participation in Sports and Physical Fitness Activities in Young Adulthood, Perkins, 2004). Three-in-four (77%) of adults aged 30+ who play sports today played sports as school-aged children. Only 3% of adults who play sports currently did not play when they were young (Robert Wood Johnson Foundation/Harvard University/NPR, 2015).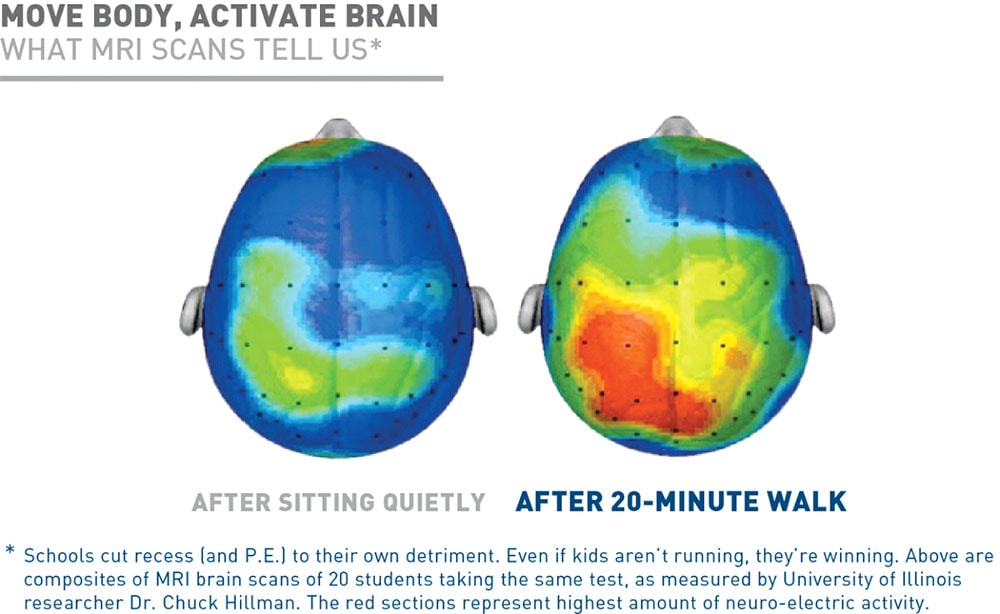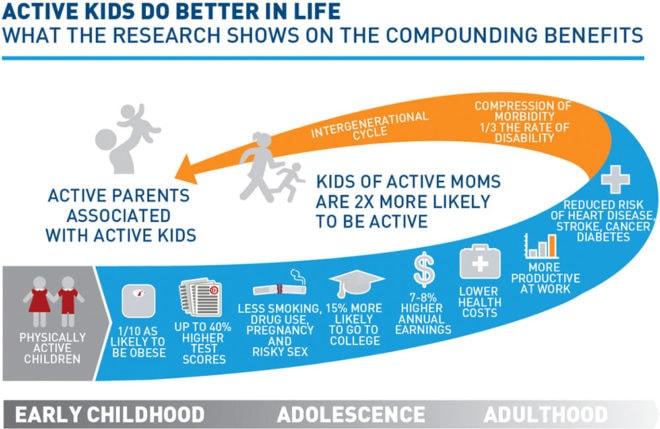 Organized sports activity helps children develop and improve cognitive skills, according to a study of that tracked kids from kindergarten through fourth grade (Piche, 2014). Physical activity in general is associated with improved academic achievement, including grades and standardized test scores. Further, such activity can affect attitudes and academic behavior, including enhanced concentration, attention, and improved classroom behavior (GAO, 2012).
High school athletes are more likely than non-athletes to attend college and get degrees; team captains, MVPs achieve in school at even higher rates (US Dept. of Education, 2005). The benefits extend to the workplace. A survey of 400 female corporate executives found 94% played a sport and that 61% say that has contributed to their career success (EY Women Athletes Business Network/espnW, 2014).
A number of studies provide support for the premise that physical activity, and sports in particular, can positively affect aspects of personal development among young people, such as self-esteem, goal-setting, and leadership. However, evidence indicates that the quality of coaching is a key factor in maximizing positive effects (GAO, 2012).
Compared to non-athlete peers, female high school athletes are less likely to be sexually active, to use drugs, and to suffer from depression (Women's Sports Foundation, 2004). A correlation has been found between regular exercise and mental health among students in general as they move into the teenage years. Among students who exercised 6 to 7 days a week, 25.1% felt sad for two weeks or more in the past 12 months, compared to 35.7% of students who reported exercising on 0 to 1 day. Of students who exercised 6-7 days, 15% reported suicidal ideation, and 6.4% reported a suicide attempt in the past year, compared to 24.6% and 10.3% of students who exercised 0-1 day, respectively (Journal of American Academy of Child & Adolescent Psychiatry, 2015).
Parents appreciate these benefits. Asked about the positive effects playing sports has had for their children, they pointed to: physical health (88%), giving the child something to do (83%), teaching discipline or dedication (81%), teaching how to get along with others (78%), mental health (73%), social life (65%), skills to help in future schooling (56%), and skills to help in a future career (55%), according to the RWJF/Harvard/NPR survey in 2015.
School athletic teams provide enjoyable, supervised activities for youth. Student athletes report healthier eating habits, higher levels of cardiovascular fitness, increased parental support, and decreased anxiety and depression.[1],[2],[3] Furthermore, a national study from 2000 showed a positive association between participating in school sports and lower rates of tobacco, drug, and alcohol use.[4] Youth who participate in sports were also more likely to disapprove of their peers' substance abuse.[5] In addition, participating in sports is associated with higher levels of self-esteem, motivation, and overall psychological well-being, and better body image for girls.[6] A study conducted with Los Angeles County schools found that juvenile arrest rates and teen birth rates were lower in areas where schools offered more sports, even after controlling for demographics.[7] Not all research efforts, however, have found these positive relationships for all groups of youth. For example, studies have reported higher rates of substance use among white male and black female athletes, as well as among males involved in male-dominated sports (e.g., football), and among females involved in out-of-school, mixed-gender sports (e.g., skateboarding, dance). [8],[9],[10] Participation in athletics has a positive association with academic achievement. Studies have shown that high school athletes have higher grades than non-athletes, lower absentee levels, a significantly smaller percentage of discipline referrals, lower percentages of dropouts, and higher graduation rates. [11],[12]
[1]Harrison, P. A., Narayan, G. (2003).Differences in behavior, psychological factors, and environmental factors associated with participation inschoolsportsand other activities in adolescence.Journal of School Health, 73(3). Abstract available at: http://www.ncbi.nlm.nih.gov/entrez/query.fcgi?cmd=Retrieve&db=PubMed&list_uids=12677730&dopt=Abstract.
[2]Action for Healthy Kids. (2004). The learning connection: The value of improving nutrition and physical activity in our schools. Executive Summary. Available online: http://www.actionforhealthykids.org/special_exclusive.php
[3]Beets, M.W., Pitetti, K.H. (2005). Contribution of physical education and sport to health-related fitness in high school students. Journal of School Health. 75(1). pp. 25-30.
[4]Substance Abuse and Mental Health Services Administration. (2001). Summary of findings from the 2000 national household survey on drug abuse (NHSDA Series: H-13, DHHS Publication No. SMA 01-3549). Rockville, MD: Author. Available online: http://www.oas.samhsa.gov/NHSDA/2kNHSDA/2kNHSDA.htm
[5]Ibid.
[6]Centers for Disease Control and Prevention. Facts on sports and smoke free youth. Available: http://www.cdc.gov/tobacco/research_data/youth/ythsprt1.htm; American Psychological Association.
[7]Cohen, D.A., Taylor, S.L., Zonta, M., Vestal, K.D., Schuster, M.A. (2007). Availability of high school extracurricular sports programs and high risk behaviors. Journal of School Health. 77. 80-86.
[8]Taylor, M.J. (2001). Sports participation, delinquency, and substance use among rural African American girls. Paper presented at the annual convention of the American Psychological Association, San Francisco, CA. Abstract available online: http://www.apa.org/releases/sportinvolvement.html
[9]Moore, M. J., Werch, C. E. (2005). Sport and physical activity participation and substance use among adolescents. Journal of Adolescent Health. 36 (6). 486-493.
[10]Eitle, D., Turner, R. J., Eitle, T. M. (2003). The deterrence hypothesis reexamined: Sports participation and substance use among young adults.Journal of Drug Issues.33(1), 193-222.
[11]Whitley, R. L. (1999). Those 'dumb jocks' are at it again: A comparison of the educational performances of athletes and nonathletes in North Carolina high schools from 1993 through 1996. High School Journal.82(4), 223-233.
[12]Jergovic, Diana. (2001).The impact of athletic participation on the academic achievement of American adolescents. Dissertation Abstracts International: Section B: The Sciences and Engineering. 62(1-B), 576.
– See more at: http://www.childtrends.org/?indicators=participation-in-school-athletics#sthash.hJ7jiiNf.dpuf
– See more at: http://www.childtrends.org/?indicators=participation-in-school-athletics#sthash.hJ7jiiNf.dpuf