Join the Conversation on our NEW Wolfpack Ninjas App for iPhone and Android!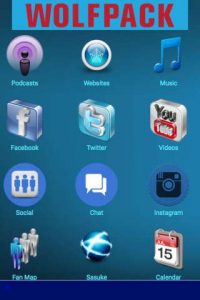 The app is FREE and here are the reasons why you should download it today!
Easiest place to listen to our FREE podcast on the go
Fan Map allows you to list where you are, hook up with other Ninjas and see where the Wolfpack is
A Calendar to show you Wolfpack EVENTS & where the next Wolfpack Ninja Tour will be and when!
Chat function allows you to talk with the pro Ninjas and the Wolfpack Ninjas!
All Wolfpack Ninjas social media
Some free Wolfpack music!
Useful links to American Ninja Warrior fan sites such as sasukemaniacs!
Free health tips, nutrition and workout tips and ideas from the Wolves and other top ninjas!
Best of all, it's FREE! What are you waiting for? Search on the App Store or Google Market on Android for "Wolfpack Ninjas" and it should come right up.
Please help us out and share on your social media and leave us a review! also, comment below if you want to see new functionality!