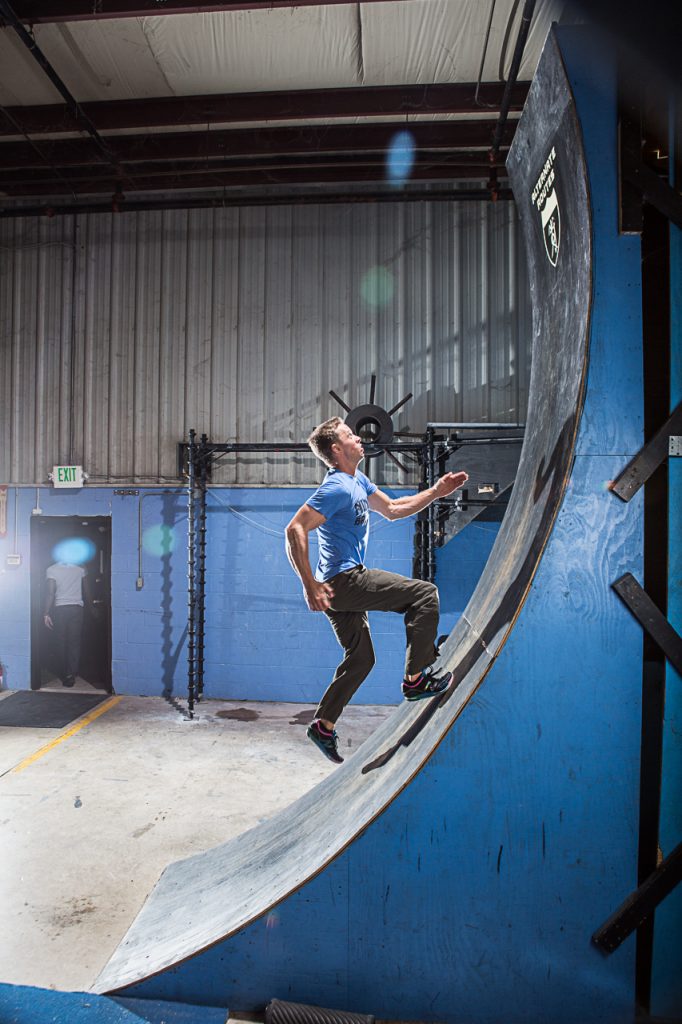 Keeping your eye on the prize
In climbing footwork is essential. One of the best ways to teach this is having climbers watch where they put their feet. it sounds simple, right? Most climbers look away right before they place a foot on a hold. If you go to a climbing gym, watch others climb and you will see this happen all day. That extra half second to make sure your foot is placed correctly can be the difference between sending a climb and falling.
Its the same with Ninja Warrior. Its easy to get distracted. Lights, Camera, Action! Crowds of people cheering, watching every move you make. The pressure is very real and it takes out top ninjas every year. In season 8 on stage 1 in Las Vegas I fell right away. If you watch my fall slowly, you can see that i wasn't looking at my feet, making sure they were placed correctly. SPLASH! I laughed about it then, and i still do today. If I hadn't beaten the whole course in season 7, i may not have been laughing about it so hard =) Remember, the most most important tool in your bag when doing an obstacle course is your mental game. I call it the ability to focus. When focused I feel that i can will myself to get past any obstacle in my path. On season 7 i was terrified of the snake bridge, it had taken out man, many ninjas. I got on it and focused as hared as i could on every little movement and got past it. I knew i could finish the course, past that obstacle, but still i had to keep my focus. It worked, and i was one of only two finishers that night.
So how do you practice becoming focused? For me, its all about the little things. I look at every part of an obstacle and plan out what to do. Then i come up with a backup plan if things go badly. If i need extra grip on an obstacle ill remind myself to stop and clean my shoes, or roll my pants legs up. Going in with a solid plan will always lead to greater success. Remember to take deep breaths whenever you can and try to keep your breathing in control. If the course isn't a speed course, stop after competing each obstacle and refocus on the next one. I cant stress this enough! Ive had so many friends fall who rushed into an obstacle that should have been easy for them, and fallen. One friend in Pittsburgh made it all the way to the 4th obstacle on a very cold night. He started his run wearing a hooded jacket and was going to take it off before that obstacle (the wind chimes.) He forgot. He got onto them and cruised to the first big move and found out that his jacket was slipping on the chimes and he could not do the next move. He spent a minute fighting it, trying to remove his jacket but couldn't, and fell. He had all the skills to beat the finals course but a simple mistake stopped him from hitting that buzzer.
So remember, Focus!