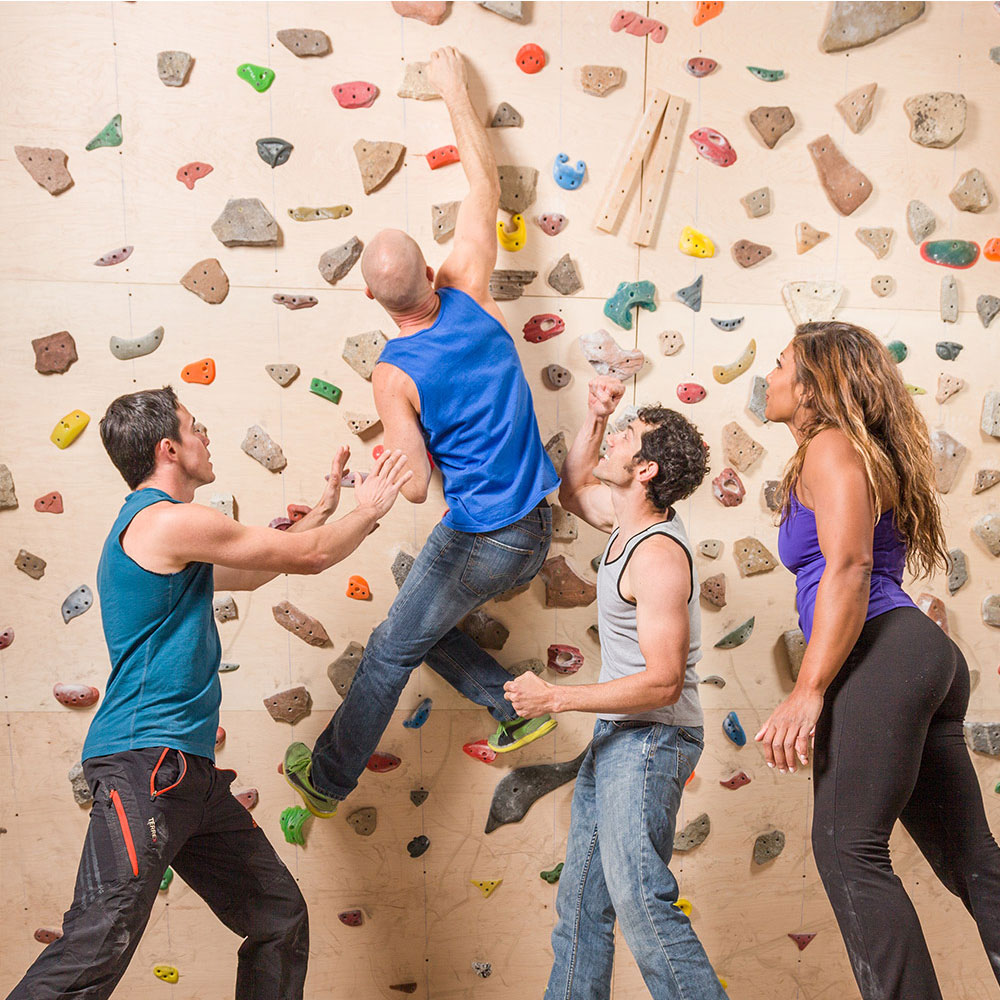 Wolfpack Ninja Podcast Episode 10 – Wolfpack Ninjas Training
The Wolfpack Ninjas are Rock Climbers and this episode reveals their training secrets.
The Wolfpack Ninjas rock climbing training secrets are finally REVEALED!!! This episode is dedicated to making you a stronger climber, ninja
and person through the secret training tips and advice from the Wolfpack Ninjas. Between the four of them, Noah, Brian, Meagan and Ian HAVE OVER 75 YEARS OF ROCK CLIMBING EXPERIENCE. They have all climbed V12 and harder and Ian has done some of the hardest climbs in the world. For those of you who do not know, only about 0.1% of climbers can climb V10 or harder. American Ninja Warrior obstacles are fairly easy by comparison to hard boulder problems, ranging from V0 to about V6 at the hardest. It takes
most climbers 8-10 years of constant training and effort to be able to climb their first V10 or 5.14. These are marks of pride amongst climbers akin to earning your black belt in Karate. Below is a grade scale:
Climbing is best suited for the upper-body intensive obstacles found in the later stages of American ninja Warrior. Being expert climbers, the Wolfpack Ninjas have consistently done very well on the courses despite training only a few months per year for Ninja specific athleticism. Climbing is an adaptive sport and in general, climbers seldom are doing the same moves twice. This adaptability is what trains the Wolfpack and guys like Geoff Britten to be able to adapt quickly to new obstacles much like parkour master Jesse La Flair and others.
Although they wish they could play on the rocks all year long outside, the Wolfpack Ninjas are stuck inside training much of the winter. This is a good thing though since training in a more scientific way indoors is often the key to breaking out to new levels outdoors. In this episode, the ninjas discuss their top secret training secrets: creating a movement "library," circuit training, bouldering, sport climbing, different hand positions, training weaknesses, endurance and nutrition for optimal performance and health. If you want to learn more, or get more secrets to becoming the best climber you can be, consider purchasing The Wolfpack Training Manual by the Wolfpack Ninjas which is a very specific and detailed plan about how the Wolfpack trains for Ninja Warrior events. You will become a champion. See videos and Youtube Channel below for more Wolfpack climbing action!
NINJADOC'S YOUTUBE CLIMBING CHANNEL
Select Videos of Wolfpack Climbing around the world:
MEAGAN MARTIN sending an amazing V10 and Athlete Profile!

Ninjadoc Noah on a sweet V9 in Lake Tahoe:

Brian Arnold crushing and AMAZING ROOF in Arizona:

Ninjadoc on a V10 in Squamish, BC:

A big highball DANGEROUS climb forward to 1:08…)

A famous V11 Tahoe First Ascent: