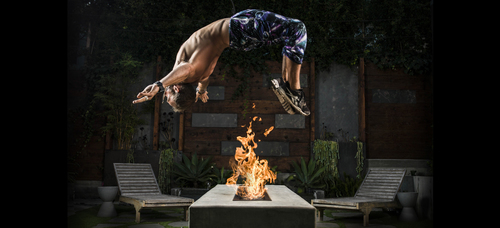 Wolfpack Ninja Podcast Episode 17 – Travis Brewer
Travis Brewer – Calisthenic Athlete / Ninja Warrior / Social Entrepreneur on a mission to inspire positive movement
Travis Brewer is on a mission. This Handstand/calisthenic expert is out to improve the lives of others as a social entrepreneur, and  he is one of the veteran American Ninja Warriors who have made it to Finals in Vegas. Travis is a clothing designer with a company called Pi Movement that makes INCREDIBLE Ninja /parkour clothes that enable complete freedom of movement. His company gives a Pi portion (3.14%) to a good cause (currently building parks and playgrounds for kids!) Travis had had some major obstacles to overcome in his life including a horrific knee injury which took him years to come back from. He also had to change his life when his previous job and life path proved to be unfulfilling. Travis is one of those magical guys who makes life seem… Well, magical. With over 60,000 Instagram followers and an amazing collection of very inspiring photos and media, Travis has not wanted for publicity or public exposure. Travis is a friend to all ninjas and an important part of our ninja community. He is constantly supporting other Ninja's visions and dreams and goes out of his way to make others feel good about what they are doing. Travis shares a similar approach to public education and heath as the Wolfpack does and is really quite keen on motivating kids to become the best that they can be. He is a leader and is a sought after trainer, entertainer and coach. With non-stop inspiration pouring out of his instagram, you HAVE to follow him! his photos and antics will just make you smile!
American Ninja Warrior was a perfect stage to elevate to, and he dominated the courses and has become a seasoned veteran. Travis always has AMAZING antics on the course including pressing his body up into a handstand at the top of the warped wall and walking, ON HIS HANDS, over to the buzzer and tapping the buzzer casually with his foot.  Amazing!
Recently, Travis has combined forces with Nicholas Coolridge, The Modern Tarzan, to promote health and create a new athletic/spiritual experience for the lucky people of Los Angeles where they live. As part of Jessie Graf's G-Force on the smash hit TV show spin off Team Ninja Warrior, Travis has been one of the more popular Ninjas in ANW history and has had a big impact on the health of his fans and clients.
When you are around Travis, you really get the feeling that anything is possible!
Travis on Life, his philosophy and philanthropy. Travis really loves people:
Travis Brewer on the ANW course!

Travis racing The Rocket, Evan Dollard on Ninja Quickie:

FOLLOW TRAVIS BREWER ON SOCIAL MEDIA!
PI MOVEMENT CLOTHING – The Best Ninja Clothes BY FAR in the industry! Get some! Support the movement and Travis!