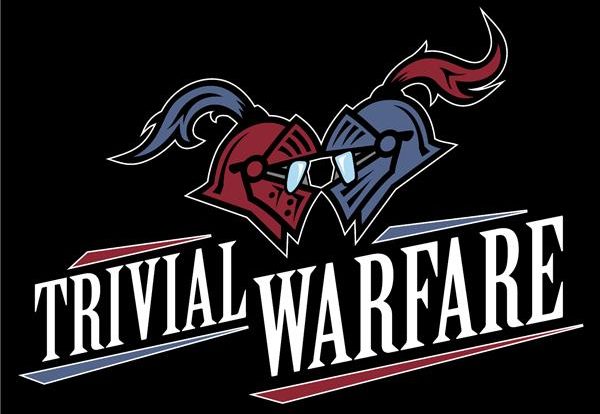 Wolfpack Ninja Podcast Episode 22 – TRIVIAL WARFARE PART 1
Wolfpack Ninjas on Trivial Warfare!
TEAMS: Shewolf Meagan Martin and Ninjadoc, Noah Kaufman, MD team up against our brothers Wolfpup, Ian Dory and ANW Superstar and Team Ninja Warrior Party Time captain Brian Arnold for a TRIVIAL WARFARE 2-part episode! Join the WOLFPACK NINJA PODCAST FOR PART 1, and then go to Trivial Warfare to catch part 2 and see who wins! What are you waiting for!? Go subscribe to this AWESOME PODCAST! It is super fun to listen along and try to guess the answers yourself and learn as you go. Wolfpack is definitely ADDICTED!
Meet Jonathan Oakes, I.T. Master and Trivial Warfare podcast genius who comes up with the coolest questions! "How many calories in a pound of human fat?" Part 1 of our epic wolfpack civil war starts on the WOLFPACK NINJA PODCAST and Part 2 ends on the TRIVIAL WARFARE PODCAST.
PLEASE SUBSCRIBE TO BOTH!
You may be surprised by some of the questions, and some of the Wolve's answers. Sometimes it's not pretty, sometimes, it's pure genius…  Well… Ok, it's never pure genius and sometimes it's downright embarrassing, BUT you need to tune in to laugh and hear the wolves struggle with some questions that you would think would be fairly easy to answer.  ALSO, some of the wolves expose some hidden talents such as did you know one of the Wolves speaks JAPANESE? Find out who and try to answer along on this awesome 2 part game show style podcast.
If you enjoy this podcast, please let us know in the comments and we can get more creative shows and collaborations coming your way!
JESSIE GRAFF SPECIAL GUEST!
CHECK OUT HER AMAZING NEW PODCAST!!
PODCAST: Super Women Episode 1 – Luci Romberg
JOIN THE TRIVIAL WARFARE PHENOMENON!