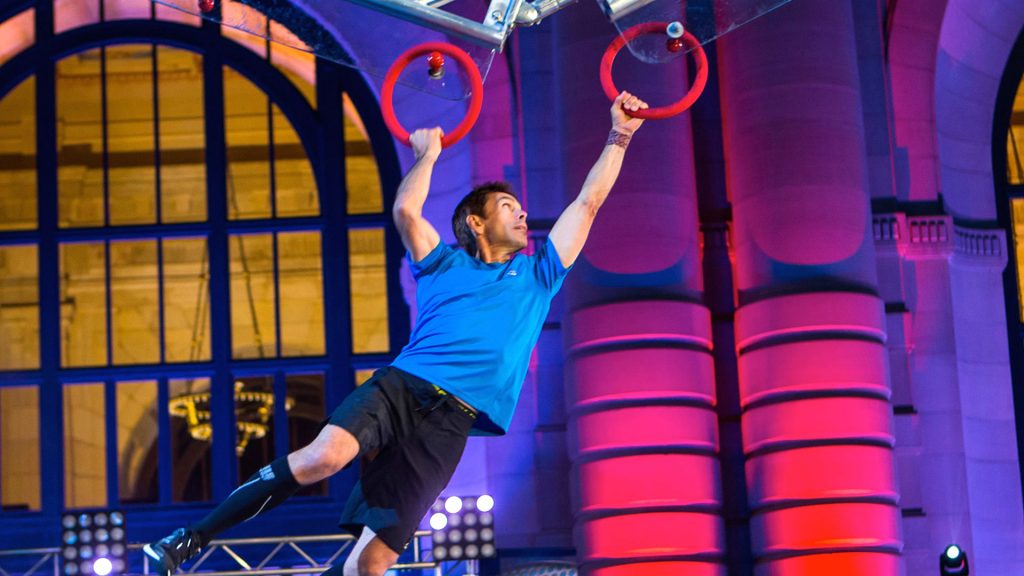 Wolfpack Ninja Podcast Episode 32 – Jon Stewart PART 2
Jon Stewart is a great ninja and a wise man
The Wolfpack first met Jon Stewart in ANW 6 in Denver. Jon was one of the other climbers on the course that night, and believe it or not, Ninjas view each other as athletes without too much thoughts about age. UNTIL something amazing happens and then the age bit gets talked about. So it was with Jon that night in Denver so many moons ago. Jon was the first competitor to clear the difficult finals course, and in the end, only Paul Kasemir and the rest of the Wolfpack (Ian, Noah, Brian & Isaac) would end up clearing the course that evening. All climbers, and one 52 year old climber. What a stud. Needless to say, this kicked-off a friendship that has endured the seasons and grown. Jon is a huge ally to the pack on our mission to fight obesity and overweight problems in this country. Jon is a role-model and a family man and has the dubious distinction of being a role-model to adults as well as kids. Everybody wants to be like Jon. Not just in his amazing athletic and Ninja based abilities, but also in his easy-going demeanor and humble attitude towards life.
In this two part podcast, Jon shares some incredible insight about what it's like to grow older but stay young. Jon has had numerous setbacks and injuries, tough times and grand times,
and through it all he has remained even-keeled and level-headed. Jon has been sucked up into the American Ninja Warrior universe and is one of us, a part of history and a very special part at that. There are numerous aspects of the ANW culture that Jon has quietly contributed to including the "world's largest salmon-ladder" and showing us that age is mostly in your head. But that's just it, Jon acknowledges that things change as we age, we need to train smarter, we need to adapt. He is not afraid to talk about the fact that time is running out… For all of us. We all have a clock that ticks away loudly, reminding us that we have a time-limit on our dreams.
This is how and why ANW is a metaphor for life. It's challenging and at time seems impossible. There are moments of incredible beauty and glory and more moments of frustration and sadness. As Evan Dollard said in his podcast "Life is messy." Despite all the broken bones, the ego hits, the trials and tribulations and the obstacles of having a huge family, work, responsibilities and naysayers, Jon Stewart has risen above the veneer of negativity to become a role-model to us all and a leader by example.
Here's to you, Jon Stewart! The Wolfpack salutes you, brother!
FOLLOW JON ON SOCIAL MEDIA: