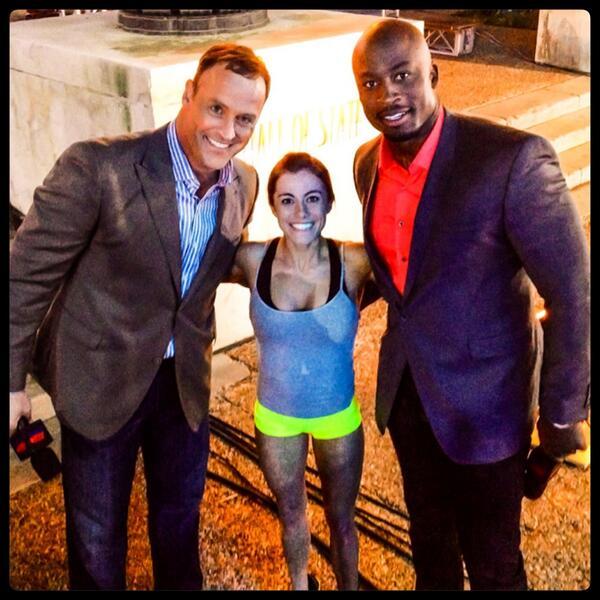 Wolfpack Ninja Podcast Episode 30 – Kacy Catanzaro PART 2
Kacy Catanzaro is an American Ninja Warrior LEGEND
We can all learn a thing or two about tenacity from Kacy Catanzaro. This woman is made of steel. Kacy was the first woman to finish the Warped Wall (partially by circumstance; Meagan and Michelle Warnky also were able to complete the wall in later cities.) However, Kacy is still the only woman ever to finish a City Finals course which is remarkable. The YouTube video of her sensational feat went viral and hit 10 million within just a few days! This is even more impressive since Kacy is only about 5 feet tall making the gaps and distances proportionately farther for her small frame.
Kacy Catanzaro is a former award-winning Division 1 NCAA gymnast and a professional obstacle course athlete in San Antonio, Texas.
While she has made a name for herself as both a managing partner for Alpha Warrior and a student athlete at Towson University, she is most notably known for the historic feat of becoming the first woman to ever scale the 14ft Warped Wall, complete a qualifying course, complete a city finals course, and earn a spot to the Las Vegas Finals in Season 6 of American Ninja Warrior.
Kacy is more than just all of her accomplishments though. Kacy Catanzaro is a leader. She has consistently raised the bar for women and led the battle cry for women to try hard and to reach their potential. She is looked up to by millions of fans despite her diminutive stature. The Wolfpack has had the honor of hanging out with Kacy on numerous occasions and the other thing you should know about her is that she loves to have a good time! She is as humble as she is powerful, and her fans love her for it.
Kacy has had her ups and downs becoming the first woman to ever qualify for the Las Vegas finals also known as Mt. Midoriyama. She is still the only woman to ever complete a FULL Finals course, and she did it in style as you can see in the video below. This video went viral and withing days it seemed like the whole world had seen and knew who Kacy Catanzaro was. She is a face of the sport, the TV show and is one of the very top American Ninja Warriors of all time. Man or woman. There is something special about Kacy. She is one of those surprising superheros who has a fierce competitive spirit and the eye of the Tiger. Here's to you, Kacy! A true American Ninja Warrior!
You better just watch this:


AND… Dominating the infamous cliffhanger:

Evan Dollard's "Ninja Quicke" Evan vs. Kacy!

Kacy talks Ninja Warrior on the set:

FOLLOW KACY ON SOCIAL MEDIA:
CHECK OUT our friend's Ninja Warrior Video Training Course!! CLICK HERE FOR E-MAIL LIST TO GET UPDATES!!
NINJA WARRIOR FROM SCRATCH!
Ninja Warrior From Scratch Trailer from Snowman Films on Vimeo.