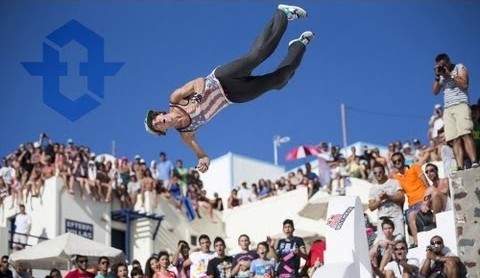 Wolfpack Ninja Podcast Episode 7 – Jesse La Flair
American Ninja Warrior Jesse La Flair – Parkour Master, Teacher and YouTube Sensation
American Ninja Warrior Jesse La Flair has a lot going for him, and we catch up with this Parkour Guru in this episode of the Wolfpack Ninja Podcast. Jesse is a professional Freerunner and pro team member of Tempest Freerunning based out of Los Angeles, California. He is the most individually subscribed Professional Parkour and Freerunning athlete on Youtube worldwide, a stuntman, and known for his appearances as a top finalist on American Ninja Warrior. He has inspired many beginner parkour and freerunning athletes from his tutorials on Youtube which have 300,000 subscribers and 28,000,000 views!!!  You know Jesse is doing something right.  Jesse has been on American Ninja Warrior several years and has been a finalist. He views the course as a chance to play and is not as concerned about actually going the distance. He wants to make it a piece of performance art and his movement does indeed do the talking.
Jesse La Flair is a Tempest Freerunning Pro Athlete, his Freerunning and Parkour Tutorials have been titled the Best Parkour tutorials on youtube by 1,000's. He is the number one most subscribed to Professional freerunning athlete in the world and has proved himself internationally at the biggest freerunning competitions and events winning not only Best Trick at the Red Bull Art Of Motion in 2013 but taking third place overall at AOM and the Bet Safe Air Wipp challenge. In the USA he is nationally known for his appearance and top performance on NBC's American Ninja Warrior as well as appearing in over 10 National Commercials and Major Block Buster Films.
Before we get into the episode, we want you to experience what it's like to BE Jesse La Flair.  The guy is a total NINJA and this Assassin's Creed type POV Parkour run-a-thon in Vancouver should adequately blow your mind:

And here is Jesse DOMINATING the American Ninja Warrior Venice 2013 Qualifiers in Venice Beach, CA. Jesse puts up the fastest time and was one of only a handful of Ninjas to make it past the "Flying Nunchucks" and complete the course! Check out his awesome run:

Jesse La Flair has a lot to say in his awesome interview. He discusses his world tour and what it was like becoming one of the first true parkour professionals. He discusses his fans and the impact his videos have had in their life and at times, even Jesse shows amazement with the positive impact he has had on other's lives. Jesse views his parkour as "drawing with crayons on paper" and is very honest with the notion that what he is doing is mostly just "play." Yet he is unabashedly proud of his unconventional approach to business and life. Jesse also sheds some light on his views about Team Ninja Warrior and the Isaac/Geoff First ANW controversy.
Overall, Jesse La Flair is a well-spoken steward of his sport, parkour and a role-model to kids everywhere. His advice to fans and kids alike is powerful: Don't be afraid to try something. Jesse has certainly learned this well and he is looking forward to this season of American Ninja Warrior. If he's not filming a movie!
FOLLOW JESSE LA FLAIR:
SNAPCHAT: @JesseLaFlair
TEMPEST FREERUNNING ACADEMY:
Here is some more Jesse La Flair INSANITY:

THIS IS WHAT FREEDOM LOOKS LIKE: